Que vous ayez envie de retrouver vos amis ou que vous vouliez tout simplement vous rafraîchir pour démarrer cette fin de semaine de toute fin d'été, les boissons genre cocktails, mocktails et autres apéritifs sont nombreuses.
Je vous propose cependant deux apéritifs / cocktails tout simples à préparer, très peu caloriques et pourtant si bons. La bonne nouvelle est qu'un excellent cocktail peut être étonnamment facile à créer. Quelques ingrédients, les bons outils et un peu de confiance, sont tout ce dont vous avez besoin pour préparer les boissons servies dans les bars les plus huppés. Voyons d'abord ce que vous pensez du Cointreau Fizz et de la Mule Rouillée et dites-moi vite celui que vous préférez.
Retrouvons-nous donc sans tarder sur La Classe de cuisine.com pour trinquer!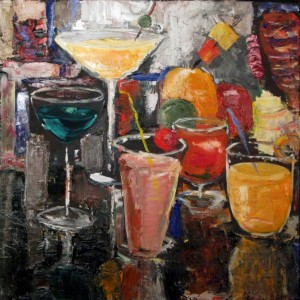 Whether you want to spend some time with your friends or you want to just refresh yourself to start this weekend of late summer, drinks like cocktails, mocktails and other beverages are many.
However, I suggest two Aperitifs / Cocktails while simple to prepare, low in calories, yet so good. Because the good news is that a great cocktail can be surprisingly easy to create. A couple of ingredients, the right tools and some confidence are all you need to turn out the kind of drinks served in the smartest bars.
First, the Cointreau Fizz and, second, the Rusty Mule… Tell me which one you prefer !
So, let's meet soon at La Classe de Cuisine.com. Cheers !