Comme le dit le dicton, faisons attention, restons sur nos gardes car malgré les belles journées, avril est un mois dont le jardinier se méfie. Le risque de gel perdure en effet, à l'exception des zones littorales de la côte d'Azur.
Pourtant, dès le mois d'avril, dans les plaines sablonneuses des Landes, mais aussi dans la vallée du Rhin, en Allemagne, pointe la délicieuse asperge blanche, sucrée et tendre.
Patience et longueur de temps… le début de cet adage correspond à merveille à la culture de l'asperge ! Elle est appréciée des gastronomes. La blancheur tant recherchée de l'asperge n'est pas qu'un critère visuel. C'est en effet lorsqu'elle est la plus pâle qu'elle reste la plus tendre et la plus sucrée. L'asperge verte, une spécialité dans d'autres régions, présente un goût plus prononcé. La calibre du turion n'est pas non plus anecdotique quant à la qualité gustative.
Contrairement à une idée répandue, plus l'asperge est grosse, plus elle est tendre, car les fibres dures sont présentes sur le pourtour de l'asperge, et non au coeur. A degré de fraîcheur équivalent et après épluchage, une asperge de gros calibre sera toujours plus tendre qu'une asperge fine.
Maintenant pour le coin des gourmands je vous livre ma recette d'Asperges Sauce Mousseline et pour les soirées encore un peu frileuses, le Velouté d'Asperges.
Alors bon appétit,  et à bientôt sur La Classe de Cuisine !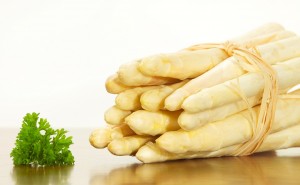 As the saying goes, pay attention, stay on your guard despite the good weather. April is a month where the gardener is suspicious. The risk of freezing is still present, except for coastal areas of the French Riviera.
Yet by April, in the sandy plains of the French Landes, but also of the Rhine Valley, in Germany, leading the delicious white asparagus, sweet and tender.
By time and toil we sever… the beginning of this adage is wonderful for the growing of asparagus! It is popular for the gourmets. The whiteness of the much sought asparagus is not a visual criterion. The lighter it is, the more tender and sweeter it is. Green asparagus, a specialty in other regions than these, has a stronger taste. The caliber of the shoot is not without influence on the taste or the flavour.
Contrary to popular belief, the bigger the asparagus, the more tender. Hard fibers are present around the perimeter of the asparagus, and not at the heart. In a similar degree of freshness and after peeling, a large caliber will always be more tender than a thin asparagus.
Now, to satisfy your greediness, I give you here my recipe for Asparagus & Mousseline Sauce and, for the chilly evenings, the Cream of Asparagus soup.
So, Bon Appétit and see you soon at La Classe de Cuisine !