Dans le petit radis rose… tout se mange ! Même ses fanes. Elles sont pleines de provitamine A, d'antioxydants et bien sûr de Vitamine C. Alors, mangez-les en salade avec de la laitue ou du cresson, comme dans cette Salade Lorraine aux Radis ou encore en soupe comme dans ce Velouté de Radis.
Le radis est un des aliments les moins caloriques mais riche en minéraux. De plus, vu que cette racine se consomme crue, tous ses bienfaits restent intacts! Le radis est également bien pourvu en fibres et donc facilite la digestion.
Enfin, n'hésitez pas à cuisiner les radis devenus un peu fort et cuisinez-les façon navets pour accompagner les viandes blanches. Parsemez le tout d'un hachis de persil, c'est très bon, je vous l'assure.
Alors, à très bientôt sur laclassedecuisine.com!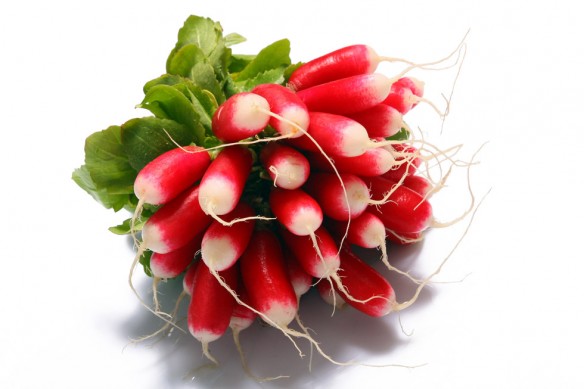 In the small red radish… everything is edible! Even its tops. They are full of provitamin A, antioxidants and of course Vitamin C. So eat them in a salad with lettuce and watercress, as in this Lorraine Radish Salad or in a soup as in this Creamy Radish Soup.
Radish is one of the least calorific but rich in minerals. And since this root is eaten raw, its benefits remain intact! Radish is also well endowed with fibres and therefore helps digestion.
At last, do not hesitate to cook radishes who have become a little stronger in taste, and cook it the way you cook turnips to accompany white meats. Sprinkle with lots of chopped parsley, the result is very good, I promise.
And See you soon at laclassedecuisine.com!