Pour fêter les deux ans d'existence de LACLASSEDECUISINE.COM, voici ma nouvelle version de Newsletter avec des recettes toujours aussi simples, aussi saines et bonnes, mais avec un texte raccourci et un clin d'oeil ludique qui je l'espère vous plaira toujours autant. N'hésitez pas à me dire ce que vous en pensez…
La recette d' aujourd'hui ? Des Petits Pains à la Farine de Châtaigne, que vous pourrez déguster dès le petit déjeuner mais aussi aux autres repas du jour, c'est comme vous aimez.
Cette farine est faite à base d'un fruit sauvage et particulièrement riche en sucres lents qu'est le châtaignon, ramassé en début d'automne, mis à sécher et écorcé; formidable ressource en oligo-éléments, potassium, fer et magnésium, vitamines B1 et B2 mais sans Gluten. Cette farine est agréable à utiliser.
 Les châtaignes et marrons comestibles sont toujours issus du châtaignier qu'il ne faut pas confondre avec le marronnier, arbre d'ornement qui produit les marrons d'Inde, non comestibles et même toxiques.
Bon Appétit et à la semaine prochaine sur Laclassedecuisine.com !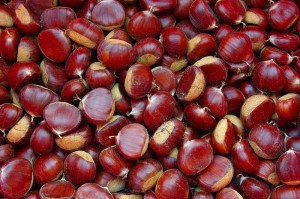 To celebrate LACLASSEDECUISINE.COM 2nd Birthday, Here is the new version of my Newsletter with seasonal recipes, easy and fun to make but with a shortcut for my text and a wink that I hope you will continue to enjoy. Please don't hesitate to tell me what you think about.
Today's recipe ? Chestnut flour Buns, which can be enjoyed at breakfast but also during the other meals of the day, it is as you like best.
This flour is produced from a wild fruit particularly rich in carbohydrates, the jung chestnut, collected in early fall, kept dry and peeled; great resource in trace elements, potassium, iron and magnesium, vitamins B1 and B2 but without Gluten. This flour is pleasant to use. Chestnuts and edible marrons are always derived from the chestnut tree and should not be confused with the  horse chestnut, ornamental tree that produces inedible marrons that are toxic.
Bon Appetit and meet you next week at Laclassedecuisine.com !