The artichoke is one of the ideal vegetables to clean one's body and feel lighter. It promotes detoxification through an antioxidant that gives it that bitter taste. Finally, it is low in calories, making it a slimming ally like in this Recipe of Artichoke Salad & Lemony Calamari. So,… Bon appétit at laclassedecuisine.com !
Ingredients for 4 People:
4 small Artichokes
8 white squid
3 lemons
1 small bunch of parsley
4 tablespoons olive oil
Salt and pink berries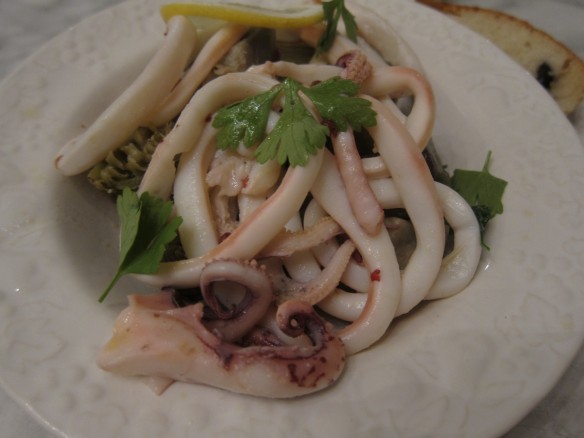 Prepare your marinade with the juice of two lemons mixed with olive oil, salt and pink peppercorns.
Marinate 1/2 hour in your refrigerator the squid slices that you cut into strips and you'll actually got prepared by your fishmonger.
For the artichokes, cut the stems, cut them into quarters, sprinkle the remaining lemon juice over and cook in simmering water for 20 minutes or until they are tender. Let cool.
Fry the squid slices and marinade for 3 to 4 minutes and immediately serve over the artichokes you have arranged in a large dish or on the plates directly.
Add salt and give a tour of five bays pepper, decorate with washed and chopped parsley and lemon slices if you like.

Print / Imprimer