Savoureux et diététique, le fenouil est largement utilisé dans la cuisine méditerranéenne. C'est un légume croquant, savoureux et qui se déguste aussi bien cru que cuit !
Le fenouil ne laisse jamais indifférent car il a une saveur anisée prononcée; On l'aime ou on le déteste. Ce bulbe blanc et renflé est issu des rivages méditerranéens, sa terre d'élection étant l'Italie, ou il occupe une place de choix. Le fenouil bulbeux, bisannuel est traité en annuel, alors que son proche parent, le fenouil officinal est une vivace, mais ils ont en commun le parfum et la saveur anisés. le premier étant cultivé pour son bulbe et le deuxième pour ses graines…
Peu calorique, le fenouil est réputé pour ses propriétés digestives et stimulantes. Il est riche en fer et en vitamine C, calcium et potassium ainsi qu'en carotène. Alors bonjour la bonne mine !
Afin de lui conserver tout son craquant et son juteux, il est récolté tôt le matin et placé au frais et plus vite on le consomme, meilleur il est. Il est aussi délicieux en salade, arrosé d'un jus de citron ou d'huile d'olive que cuit, braisé, sauté à la poêle ou encore lorsqu'il accompagne comme dans ma recette d'aujourd'hui de très gouteux Fenouils Farcis aux Légumes et Chèvre frais !
Alors à très bientôt sur la Classe de Cuisine !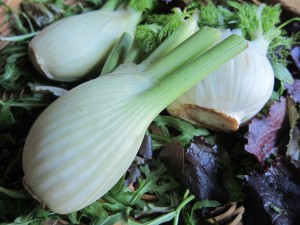 Tasty and dietetic, fennel is widely used in Mediterranean cuisine. This is a crunchy vegetable, flavourful and can be eaten both raw and cooked!
Fennel never leaves indifferent because it has a pronounced aniseed flavor. We love it or hate it. This bulb is swollen and from the Mediterranean shores. The chosen land being Italy, where he occupies a prominent place. The bulbous fennel, biennial is treated annually, while its close relative, the pharmacies fennel is a perennial, but they share the scent and anise flavour.The first being cultivated for its bulb and the second for its seeds.
Low in calories, fennel is known for its digestive and stimulant properties. It is rich in iron and vitamin C, calcium and potassium as well as carotene. Hello to the healthy look!
In order to preserve all its crisp and juice, it is harvested early in the morning and placed in a cool place. The faster we consume it the better. It is also delicious in salads, drizzled with lemon juice and olive oil and cooked, braised, stir-fried or when accompanied, as in my easy today's recipe: Very tasty Stuffed Fennel with Fresh Goat Cheese !
That is why, let's meet soon at La Classe de Cuisine !