Ces délices aux vertus bénéfiques, un régal des yeux et des papilles pour toute la famille. C'est cela même que nous aimons dans ce que nous appelons les plats mijotés…
Pour passer un bon hiver et nous protéger du froid, nous devons adopter un certain nombre de résolutions au quotidien, comme une activité physique choisie mais aussi et surtout une alimentation équilibrée pour prendre soin de sa bonne santé !
Alors que le givre est délicatement posé sur les dernières fleurs de nos jardins ou balcons, et que les roseraies sont endormies, une atmosphère tout empreinte de douceur s'installe dans nos cuisines. Nous piochons dans nos légumes racines, que nous trouvons en abondance sur tous les marchés et les faisons mijoter avec une viande comme dans ces Joues de Boeuf façon Pot-au-Feu. Ma petite famille a adoré ce plat, mijoté pendant des heures, alors pourquoi pas vous ?
Et retrouvons-nous vite sur La Classe de Cuisine !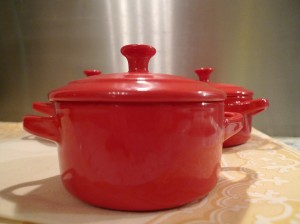 Delights with beneficial properties, a feast for the eyes and taste buds for the whole family. This is precisely what we like and what we call stewed dishes …
To have a good winter and protect ourselves from the cold, we must adopt a number of resolutions on a daily basis, such as a chosen physical activity but also and especially a balanced diet to take care of our health!
While the hoarfrost sits gently on the last flowers of our gardens or balconies, and roses are asleep, an atmosphere full of softness installs itself in our kitchens. We pick from our root vegetables, which we find in abundance on all fresh markets, and we stew them with a meat like Ox Cheek in Pot-au-feu Way. My family loved this dish, simmered for hours, so why wouldn't you?
Let's meet soon at La Classe de Cuisine !