Des racines délicieuses, des feuilles décoratives: Nul créateur n'aurait su imaginer plus beau design. Il est donc grand temps de remettre ce légume relégué aux oubliettes dans nos assiettes !
La betterave rouge est bonne pour la santé, recommandée aux personnes anémiées et connue pour renforcer le système immunitaire. Nos grands-mères la connaissaient bien et ne juraient que par elle.
Maintenant, à notre époque ou toutes sortes de salades et de légumes potagers sont cultivés en serre tout au long de l'année, la betterave est quelque peu tombée dans l'oubli. Nombreux sont les cuisiniers qui se laissent rebuter par le long temps de cuisson qu'elle requiert. Pourtant si ce dernier argument vous arrête, vous pouvez acheter des betteraves précuites et emballées sous vide.
Epluchées, coupées en rondelles ou râpées et assaisonnées de vinaigre, d'eau et d'un peu de raifort vous aurez un plat plein d'énergie. La chair est savoureuse et sa couleur rouge soutenue est due à un pigment, la bêta-cyanine.
la betterave, riche en sucres, renferme aussi des vitamines et des sels minéraux. Enfin, consommée depuis 2500 ans environ, c'est un légume aux mille vertus.
Optons donc d'abord pour ce Velouté de Betteraves rouges à la Poire que l'on peut boire dès le matin et puis déjeunons avec le Flan à la Betterave rouge accompagné d'une viande de votre choix.
Alors à très bientôt sur la Classe de Cuisine !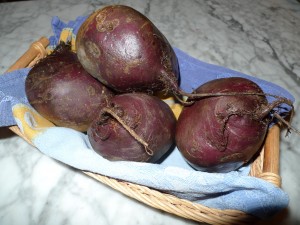 Delicious Roots, decorative leaves. No creator would imagine a more beautiful design. It is  time to put this forgotten vegetable again on our plates!
Beetroot is good for health, recommended for people suffering from anemia and is known to strengthen the immune system . Our grandmothers knew it well and swore by it.
Nowadays, we get all kinds of salads and vegetables being grown in greenhouses throughout the year, the beetroot is somewhat forgotten. Many chefs put them on the side because of the long cooking time it requires. But if the argument stops you, you can buy pre-cooked beets in vacuumed packages.
Peeled, sliced ​​or shredded and seasoned with vinegar, water and a bit of horseradish you have a dish full of energy. The flesh is tasty and strong red colored that is due to a pigment, the beta-cyanin.
Beetroot, which is high in sugar, contains also vitamins and minerals. Finally, consumed for around 2500 years, it is a vegetable with a thousand virtues.
So opt first for a Beetroot Juice with Pear,  that you can drink in the morning and then have lunch with the Beetroot Flan with a meat of your choice.
So, See you soon at La Classe de Cuisine !