A l'origine, la Polenta servait d'aliment de base durant les longs mois d'hiver où l'on manquait de pommes de terre. On la cuisait dans un chaudron durant des heures, en veillant à remuer régulièrement. C'était un plat très solide, amélioré de crème lors des fêtes.
Née dans le Nord de l'Italie, La polenta est utilisée pour la préparation d'une bouillie jaune foncé à consistance compacte qui porte le même nom et se trouve à la base de la cuisine montagnarde et paysanne. La polente, ou polenta, issue de la transformation du maïs en une semoule, existe en trois grenaisons : grosse, moyenne et fine.
En France on la trouve plutôt de taille moyenne, alors qu'en vallée d'Aoste elle est très fine et plus blanche. Régal de simplicité, la polenta se mange nature, cuite à l'eau, au bouillon ou au lait. Prête pour des créations multiples, plaisirs sains et fins puisque qu'elle remferme  des glucides complexes rassasiants (75 %), qui se diffusent lentement dans l'organisme. Ce qui est important, surtout en période froide puisque notre corps, pour maintenir notre temperature doit dépenser plus d'énérgie.
Sur le plan des vitamines, elle apporte des vitamines B, en particulier de la vitamine B9, essentielle pour le maintien des cellules. On l'agrémente de fromage (beaufort, emmental) ou de lamelles de truffe. On peut aussi la présenter en gratin en allant sur la recette tirée du livre de Ferran Adrian ( grand chef étoilé espagnol) Gratin de Polenta au Parmesan et que je vous livre ici, aujourd'hui. Alors à bientôt sur La Classe de Cuisine !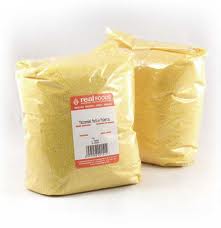 Originally, Polenta was served as a staple food during the long winter months when there was a lack of potatoes. It was cooked in a pot for hours, making sure to stir regularly. It was a very solid dish, enriched with cream at festive parties.
Born in northern Italy, Polenta is used for preparing a slurry dark yellow compact consistency of the same name. and is located at the base of the mountain cuisine and peasant. Polenta, or cornmeal, resulting from the conversion of corn semolina, is available in three grenaisons: large, medium and fine.
In France it is found mainly in medium size, while in Aosta valley it is very fine and white. Feast of simplicity, polenta eaten plain, cooked with water, broth or milk. Ready for multiple creations, healthy pleasures and purposes since it contains satiating complex carbohydrates (75%), which spread slowly in the body. What is important, especially in cold periods, since our body needs more energy to maintain our body temperature ratio.
In terms of vitamins, it provides B vitamins, especially vitamin B9, essential for the maintenance of our cells. It may be embellished with cheese (Beaufort, Emmental), even truffle slices. It can also be presented as a gratin, recipe that comes from the book of Ferran Adrian (great Spanish chef) with the Polenta & Parmesan Gratin that I give you here today. So let's see you soon at La Classe de Cuisine !