Les beaux jours sont maintenant là, et pourtant notre moral est en berne… Fatigue généralisée?
A la sortie d'un hiver brumeux, et d'un début de printemps chaotique, pluvieux, pourquoi ne pas favoriser la bonne, voire l'excellente humeur en tentant la thérapie par l'assiette ! Pour être et rester de bonne humeur, il suffit de manger. Mais pas n'importe quoi. Car oui, on peut aider les rouages de son cerveau en jouant les bons nutriments.
Il faut donc faciliter la conduction des influx nerveux, histoire de "rebrancher" sa joie de vivre en attaquant sa journée avec un petit déjeuner énergie avec thé vert, pain complet ou céréales, type flocons d'avoine, un oeuf et un fruit frais. Puis faire une "pause Zen" vers 11 h avec 2 carrés de chocolat noir, fort en cacao ou quelques noisettes, à raison de 5 à 6 par jour avec une tisane ou mieux, une eau riche en magnésium. Pourquoi? car quand on est en manque, on est plus facilement anxieux. Juste pour la petite histoire, une étude réalisée à Bristol à démontré que si l'on stresse, on sécrète du cortisol qui entraîne, à la longue, un état anxieux!
Le déjeuner doit être " euphorisant" avec poissons gras et légumes secs ou légumes à feuilles vert foncé comme les Paupiettes de Saumon. Si l'on veut on peut prendre un goûter "bonheur", genre fruit frais ou poignée de fruits secs ou même un smoothie avec 1/2 banane, 1 c à soupe de graines de lin et une de cottage cheese avec du lait de soja.
Enfin on finit avec un dîner "plénitude" en misant sur le doublé protides/glucides car comme la démontré une étude américaine du MIT ( Massachusetts Institute of Technology), un repas riche en glucides entraîne une élévation du taux de sérotonine, l'hormone de l'humeur !
Alors retrouvons-nous vite sur La Classe de Cuisine pour découvrir d'autres recettes "euphorisantes". A très bientôt donc…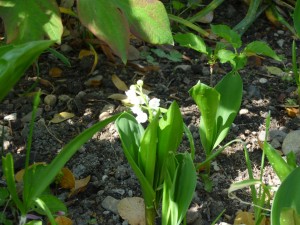 Sunny days are back now, and yet our morale is at half mast … Generalized weakness? At the end of a foggy winter and a chaotic, rainy, early spring, why not promote good or even excellent mood by trying the therapy plate!
To be and remain in good spirits, just eat. But not just anything. Because yes, we can help the cogs of our brain by playing the right nutrients.
We must therefore facilitate the conduction of the nerve impulses, just to"reconnect" the joie de vivre by attacking the day with a energy breakfast  with green tea, whole grain bread or cereal, oatmeal type, an egg and a fresh fruit. Then make a "Zen Interval" around 11 am with two squares of dark chocolate, rich in cocoa and some nuts, no more than 5 to 6 per day with a tea or better, a glass of water rich in magnesium. Why? because when one is missing, one is more easily anxious.
Just for the record, a study in Bristol found that if we stress, it secretes cortisol which leads, eventually, a state of anxiety!Lunch should be "euphoric" with fatty fish and dried vegetables or dark green leafy vegetables as Stuffed Salmon Roulades. Mid afternoon and If you want you can take a "happiness" snack, like a fresh fruit or a handful of dried fruits or even a smoothie with 1/2 banana, 1 tablespoon flax seeds and 1 of cottage cheese with soy milk .
Finally we may end our day with a "fullness" dinner by focusing on the doubling protein/carbohydrates such as the U.S. study of the MIT (Massachusetts Institute of Technology) demonstrated  it, a carbohydrate meal results in elevated levels of serotonin, the mood hormone !
So lets get together at La Classe de Cuisine to discover other "Euphoric" recipes and see you very soon…