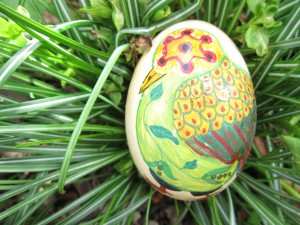 Dans tous les pays catholiques, Pâques est la plus importante fête religieuse chrétienne de l'année. La solennité commence le dimanche de Pâques et dure pendant huit jours. On l'appelle aussi semaine radieuse ou semaine des huit dimanches.
"Pâque", du latin populaire "pascua" qui veut dire "nourriture", est emprunté du grec "paskha" lui-même emprunté à l'hébreu "Pesach", qui veut dire "passage".  C'est la signification qui a donné lieu à ce choix pour désigner la fête chrétienne.
En France, la croyance voulait que les cloches partent pour Rome et reviennent avec la bénédiction du Pape. Les oeufs, quant à eux, sont symbole de résurrection. Dans les pays germaniques, c'est le lièvre qui cache les oeufs. Mais au Moyen-Age, c'est la tradition des oeufs décorés qui s'installe.
Ce n'est pourtant qu'au XVIIIème siècle que le chocolat s'en mêle et voici pourquoi je  voudrais vous faire découvrir mon menu Pascal aux couleurs du printemps. Il comporte, bien sûr, de l'agneau sous forme de Souris d'Agneau Confites, et un dessert au chocolat qui n'est autre que ma Tarte au Chocolat. Vous pouvez, si vous en avez envie, la décorer avec de petits oeufs de couleur, ce qui fera le bonheur des enfants.
Alors allumez votre four et rendez-vous avec La Classe de Cuisine !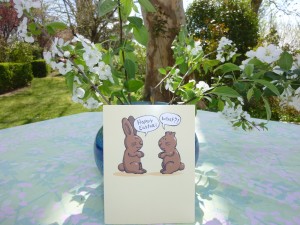 In every Catholic country, Easter is the most important Christian religious holiday. The solemnity begins on Easter Sunday and lasts for eight days. It is known as radiant week or week of eight Sundays.
"Passover", a Jewish holiday, has the same origins than "Pâques" in French. It comes from the popular Latin "pascua" which means "food" and it is borrowed from the Greek "paskha" itself borrowed from the Hebrew "Pesach". This meaning is at the origin of both words.
In France, the belief was that the bells would go to Rome and return with the Pope's blessing. Eggs are a symbol of resurrection. In the Germanic countries, it is the hare that hides eggs. But in the Middle Ages, it is the tradition of decorated eggs that was installed.
Yet, it is only during the Eighteenth Century that chocolate gets involved and that is why I want to introduce my Easter to you. A menu with the colors of Spring, with lamb of course, in my Candied Lamb Shank and a chocolate dessert that is none other than my Chocolate Tart. You can decorate it with small colored eggs if you fancy, and that will delight all children.
So, let's preheat your oven and see you soon at La Classe de Cuisine !