Today, orchids are no longer a luxury, but their beauty is still valuable. Depending on the species, there are variantes in their ways of life. Disconcerting with their ease or their difficulty, they welcome sunshine and warmth into our hearts and our homes, especially in this winter period.
Valentine's Day means flowers, so meet the Phalaenopsis and Cymbidium, some of the most easy-going and beautiful orchids. This special day also means chocolate, so as a bonus, try a box of these Chewy Chocolate Cookies, homemade, gluten free and low in calories. A family favorite loved and adapted from "Chocolate" a book by our Celebrated French pastry chef François Payard.
A gourmet cookie, crunchy and melting at the same time and still lightweight. It is impossible to resist. Let's celebrate together Valentine's Day and…
Bon Appétit at Laclassedecuisine. Com !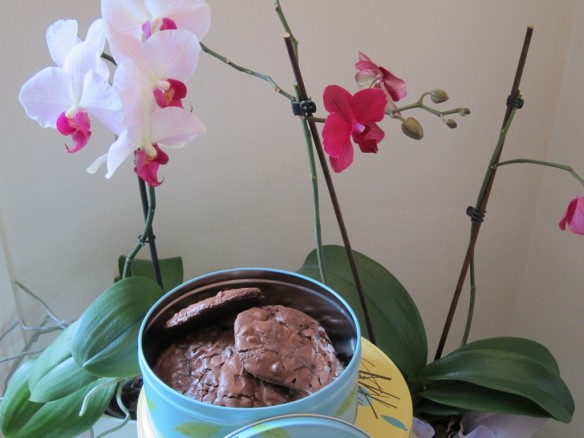 Aujourd'hui, les orchidées ne sont plus un luxe, mais leur beauté reste toujours précieuse. Selon les espèces, ells se montrent inégales à vivre… Déconcertantes de facilité ou de difficulté, elles sont les bienvenues pour illuminer nos coeurs et nos intérieurs en cette période hivernale.
Aujourd'hui, des orchidées faciles vous tendent les bras. Elles s'appellent Phalaenopsis ou Cymbidium. Alors pourquoi pas en offrir ou s'en faire offrir pour la St. Valentin avec, comme bonus, cette boîte de Cookies Moelleux au Chocolat, faits maison, sans gluten, si peu de calories, et que toute la famille a adorés; ils sont adaptés de "Chocolat", le livre du chef pâtissier François Payard !
Un petit cookie gourmand, craquant et fondant à la fois mais qui reste léger. C'est pourquoi il est impossible d'y resister. Alors fêtons ensemble la St. Valentin et…
Bon Appétit sur Laclassedecuisine.com !