Jusqu'à la fin du siècle dernier, les rillettes n'étaient préparées que deux fois par an lorsqu'on tuait le cochon comme par exemple en Touraine, dans le Maine et la Sarthe. Nous savons tous que les rillettes sont un pâté de viande confite lentement dans la graisse, puis effilochée et assaisonnée.
La version classique et authentique est à base de porc, mais de nos jours, elles se déclinent à l'infini et on en trouve au canard, au lapin, au poulet ou à la dinde, au poisson, etc…
Aujourd'hui je commençerai avec la version authentique des Rillettes de Porc mais pour ceux et celles qui préfèrent une version plus légère je propose aussi les Rillettes de Thon à la Coriandre. Elles se dégustent toutes deux à l'apéritif ou en en cas, avec des belles tranches de pain grillé.
Maintenant, comme je ne voudrais pas vous laisser sur votre faim, j'y reviendrai le mois prochain avec d'autres recettes de rillettes, originales et… chic .
Alors à très bientôt sur La Classe de Cuisine !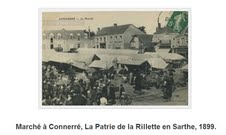 Till the end of the last century, rillettes were prepared twice a year when killing the pig like in Touraine, Maine and Sarthe. We all know that the rillettes are candied pieces of meat slowly cooked in fat, then shredded and seasoned.
The classic authentic version is made of pork, but nowadays infinite versions are available and that is why we can find duck rillettes, rabbit, chicken or turkey, fish, etc …
Today I will start with the authentic Pork Rillettes but for those who prefer a lighter version I offer you the Tuna Rillettes with Coriander.They are both eaten as an aperitif/ starter or something to have, just in case, with nice slices of toasted bread.
As I don't want to leave you hungry, I will talk about Rillettes next month again, with of course, other, original and chic Rillettes recipes.
So See you soon at La Classe de Cuisine !