Une savoureuse galette, la meilleure galette pour fêter notre nouvelle année 2013.  Cette nouvelle année que je vous souhaite saine et douce avec cette recette rapportée de ma période normande et qui est une galette délicieusement fourrée à la poire et au chocolat, moins classique que celle de l'an dernier et qui, à coup sûr, fera le bonheur des enfants comme des parents et des grands-parents !
Ma Galette Poire/Chocolat, ultra gourmande mais en version ultra facile aussi…
Pourtant, après la période d'abondance et parfois d'excès gastronomiques des fêtes de fin d'année, on se tourne en janvier vers des plats plus simples et moins coûteux. Un certain nombre de produits sont cependant à cette saison meilleurs comme les brocolis, excellents en gratin. N'oubliez pas les légumes secs, le riz et les pâtes. Tous vous aideront à varier vos menus quotidiens. Enfin, pensez aussi aux fruits secs, si savoureux.
Les fruits secs en plus d'être délicieux, sont reconnus pour leurs bienfaits nutritionnels et leur grande richesse en oligoéléments. Concentrés en minéraux et en vitamines, excellents pour notre santé, ils apportent vitalité, tonus et énergie. A mettre au menu de nos hivers.
Alors à bientôt sur La Classe de Cuisine !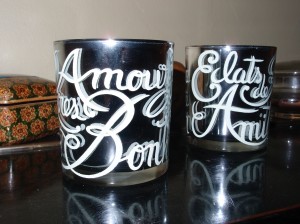 A tasty Galette, my best Galette to celebrate our new year 2013. This new year I wish you health and sweetness with this recipe from my Normandy period and this is a delicious Galette stuffed with pear and chocolate, less traditional than the one of last year and that, surely, will be a delight for children, parents and grandparents !
My Pear/Chocolate Galette is a gourmet version but ultra easy to make …
However, after the period of abundance and sometimes gastronomic excesses of the festive season, we turn in to January dishes simpler and less expensive. A number of products are best yet this season like broccoli, excellent in a gratin. Remember all dried vegetables, rice and pasta. All helping you vary your daily menus. Finally, think also dried fruits, so tasty.
Dried fruits in addition to being delicious, are known for their nutritional benefits and rich in micronutrients. In minerals and vitamins, good for our health, they bring vitality, tone and energy. A set to put on our winter menus for sure.
So, see you soon at La Classe de Cuisine !