Connue pour ses vertus cosmétiques, l'huile d'argan est tirée des fruits de l'arganier qui pousse essentiellement au Maroc. Elle est fabriquée de façon artisanale, ce qui en fait une des huiles les plus chères. Cependant, l'huile d'Argan a aussi des vertus alimentaires.
Au même titre que le thé qui est offert aux invités, l'huile d'argan accompagnée d'une assiette de miel est un signe d'hospitalité chez la population berbère.
Ses propriétés nutritives sont très supérieures à celles de l'huile d'olive. Riche en vitamine E et sans cholestérol, elle participe efficacement aux menus diététiques. L'huile d'Argan alimentaire a un effet d'amélioration du fonctionnement du foie. Elle facilite la digestion en augmentant la concentration de la pepsine dans le suc digestif. Elle se fait aussi gastronome avec son délicieux petit goût de noisette et d'amande et ajoute donc saveur et subtilité aux plats. Essayez donc sans attendre cette recette facile de Salade de Fèves aux Herbes Fraîches. Ces fèves fraîches ont tout pour elles et vous aurez l'impression de croquer le printemps…
Lors de l'achat de votre huile, spécifiez que vous souhaitez en faire un usage culinaire car, comme je vous le disais plus haut, cette huile est aussi employée comme produit de beauté dans une qualité supérieure et donc plus onéreuse.
A très bientôt donc, sur La Classe de Cuisine !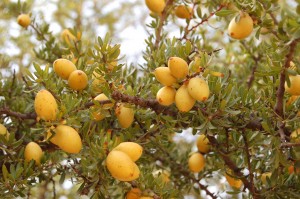 Known for its cosmetic, argan oil is derived from the fruit of the argan tree, which grows mainly in Morocco. It is made by hand, making it one of the most expensive oils. However, Argan oil also has dietary virtues.
As well as the tea is offered to guests, argan oil along with a plate of honey is served as a sign of hospitality among the Berber population.
Its nutritional properties are superior to those of olive oil. Rich in vitamin E and without cholesterol, it effectively contributes to diet menus. Dietary Argan oil has an effect of improving the functioning of the liver. It aids digestion by increasing the concentration of pepsin in gastric juice. It is also delicious with its gourmet taste of hazelnut and almond and therefore adds flavor and subtlety to dishes. Try this easy recipe without waiting by making this Broad Bean Salad with Fresh Herbs. These fresh broad beans have everything for them and you will feel the bite of Spring …
When purchasing your oil, specify that you want to use it for cooking, as I said earlier, this oil is also used as a beauty product in a higher quality and therefore more expensive.
So, let's see you soon at La Classe de Cuisine !