Gardez un coeur sain avec une poignée de noix ! Les noix sont une source riche en oméga 3 et les noix sont l'un des meilleurs moyens pour obtenir ces acides gras essentiels, qui jouent un rôle clé dans la santé du cœur.
Les noix contiennent aussi des niveaux élevés d'acide aminé qui se transforment en oxyde nitrique dans le corps et maintient les vaisseaux sanguins lisses et détendus. Maintenant, parce que vous avez 90 pour cent de la valeur quotidienne recommandée d' oméga 3 dans 75 g de noix, ajoutez-les aux salades comme dans ma Salade de Chou Rouge aux Noix ou ces Endives à la Crème de Noix ou encore dans des produits de boulangerie comme dans ces Tartelettes aux Noix, dessert typiquement français.
Pour les stocker au mieux, placez-les au réfrigérateur. Elles se gardent plusieurs mois ou au congélateur jusqu'à deux ans pour préserver leur saveur, leur texture et les antioxydants et …
A très bientôt sur Laclassedecuisine.com !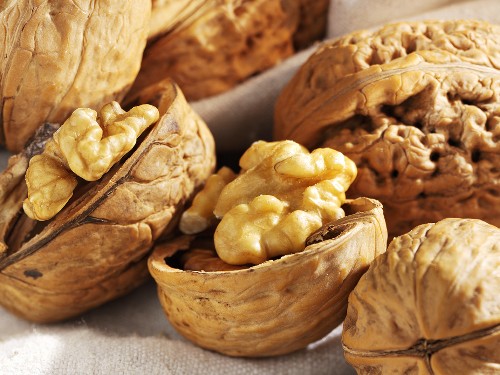 Get heart-healthful goodness by the handful. Walnuts are a rich source of omega 3 and Walnuts are on of the best ways to get these essential fatty acids, which play a key role in heart health.
Walnuts also contain high levels of amino acid L – arginine, which converts into nitric oxide in the body and keeps blood vessels smooth and relaxed. Now because you get 90 percent of the recommended daily value of omega 3 fats from ¼ cup of walnuts, add to salads like in my Red Cabbage Salad with Walnuts or this Belgium Endives with Walnut Cream but also baked goods like in this very French Walnuts Tartelettes.
To store, place in the refrigerator for several months or the freezer for up to two years to preserve flavor, texture and antioxidants and…
See you soon at Laclassedecuisine.com !