Exotique est l'image que l'on se fait généralement de l'avocat. Un fruit à la saveur douce, originaire de pays chauds et humides. Ce fruit ovoïde, vert et granuleux est originaire d'Amérique latine..
Toutefois, il n'est pas rare de croiser des avocatiers dans les jardins de Menton ou en Corse. Mais pour parler de véritable production agricole il faut se diriger vers le sud de la péninsule ibérique, aux alentours de Malaga, ou règne un exceptionnel microclimat. c'est à dire une chaleur très présente, adoucie par les entrées maritimes méditerranéennes.
C'est après sept ans de soins intensifs que l'arbre adulte entre réellement en production. Cependant, l'avocat ne mûrit pas sur l'arbre ou exceptionnellement après de nombreux mois; A la cueillette les fruits sont durs comme des pierres. Cette cueillette se fait à la main, au moyen d'un robuste sécateur muni d'un long manche télescopique pour atteindre les branches les plus hautes; C'est donc une fois coupés de l'alimentation en sève, que les avocats arriveront à la bonne maturité.
A Malaga, l'essentiel de la récolte, sur la variété "Hass" se déroule entre le mois de décembre et de juin. La production israélienne est plus précoce et celle d'Afrique du Sud, plus tardive; Mais tous les pays ne travaillent pas la variété "Hass", hybride pourtant très recherché pour ses qualités gustatives. C'est pourquoi, la France est le principal marché d'exportation de l'avocat espagnol.
Fruit pour les uns, légume pour les autres, l'avocat se consomme toujours cru. On le dit gras et c'est un fait, mais il s'agit essentiellement de lipides mono-insaturés qui ne le contre-indiquent pas dans les régimes anti-cholestérol, bien au contraire, à condition de ne pas l'accommoder grassement; l'avocat est de plus un excellent pourvoyeur de vitamines C,E et B, ainsi que de minéraux et plus spécifiquement de potassium.
N'hésitez donc plus à en consommer comme par exemple avec ce Tartare de Bar à la mousse d'Avocat, sans oublier de lui adjoindre un petit filet de citron, afin que la chair ne noircisse pas;
Alors à très bientôt sur La Classe de Cuisine !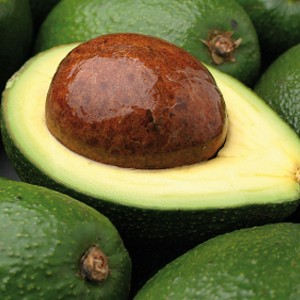 Exotic is the image that is generally printed for the Avocado. A fruit with a sweet flavor, from hot and humid countries. The ovoid fruit, green and grainy comes from Latin America…
However, it is not uncommon to see avocado in the gardens of Menton (South of France) and Corsica. But to speak of real agricultural production we should move to the south of the Iberian Peninsula around Malaga, where reigns an exceptional microclimate. The heat is very present, softened by the Mediterranean sea entries.
It is after seven years of intensive care that actually enters the adult tree production. However, Avocados do not ripen on the tree or exceptionally after many months. The gathering fruits are hard as rocks. This collection is made by hand, using a robust pruner with a long telescoping handle to reach the highest branches, So once cut the supply of sap, avocados arrive at the good maturity.
In Malaga, the bulk of the crop, the variety "Hass" occurs between December and June. Israeli production is earlier and that of South Africa, later, but all countries do not work the variety "Hass" an hybrid yet prized for its taste. That is why France is the main export market of the Spanish Avocados.
For some of us they are fruits, and vegetables for others, the avocado is always used uncooked. Avocados are greasy and this is a fact, but it is mostly mono-unsaturated fat that is not bad with anti-cholesterol diets, on the contrary, on the condition of not accommodating handsomely; the avocado  is also an excellent provider of vitamins C, E and B, as well as minerals and more specifically potassium.
Feel free to consume more as for example with this Avocado Mousse & Sea Bass tartar, without forgetting to add a dash of lemon juice, so that the flesh does not darken.
So, Let's see you soon at La Classe de Cuisine !