C'est le mois de l'introspection. L'hiver est à son apogée. La sève s'arrête, la nature dort. C'est pourtant aussi l'un des premiers mois de l'année ou l'on voit les jours s'allonger, laissant entrevoir une promesse de printemps.
Sans attendre le retour des beaux jours, l'Hippeastrum, plus connu sous le nom d'Amaryllis, nous offre généreusement ses grandes fleurs à l'allure très noble. Il existe certes beaucoup de jolies plantes fleuries, mais les amaryllis nous procurent un plaisir tout particulier.
L'attente, la joie anticipée et l'étonnement lors de l'éclosion. Ces plantes à bulbe existent dans de nombreuses couleurs. Le summum de la splendeur florale sont pour moi le blanc immaculé comme celui de la variété "Mont Blanc" qui souligne la beauté des floraisons des amaryllis.
Les Amaryllis en boutons nous incitent à des décorations spectaculaires et l'ample volume de leurs corolles rend les amaryllis absolument irrésistibles. Alors bichonnons-nous à la maison et n'allons pas à contrecourant des évènements en prenant comme antidote l'image de ces fleurs luxueuses et splendides en préparant ce délicieux Vin Blanc Chaud Epicé. Abusons des épices tel le piment d'Espelette, le poivre, le gingembre et la cannelle qui protègent contre les infections et…
Retrouvons-nous donc vite pour nous réchauffer sur La Classe de Cuisine !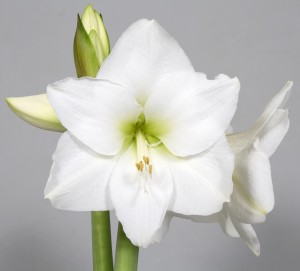 This is the month of introspection. Winter is at its peak. Sap stops, nature sleeps. Yet it is also one of the first months of the year where we see the days get longer, suggesting a promise for spring.
Without waiting for the return of sunny days, Hippeastrum, better known under the name of Amaryllis, generously offers us its large noble-looking flowers. While there are many beautiful flowering plants, Amaryllis gives us a special pleasure.
The wait, the anticipated joy and amazement at hatching. These bulbous plants come in many colors. The ultimate floral splendor for me is  the pure white variety "Mont Blanc" which emphasizes the beauty of amaryllis blooms.
The Amaryllis buds lead us to spectacular decorations and the large volume of their corollas amaryllis makes them absolutely irresistible. So doll up at home, avoid going to countercurrent events by taking as an antidote these luxurious and splendid flowers and by preparing this delicious Spiced Hot White Wine. Overindulge spices such as Espelette Pepper, blackpepper , ginger and Cinnamon that protects against infections and …
Lets meet quickly to warm up at La Classe de Cuisine !