La cuisson vapeur, qui est un mode de cuisson très rapide et permettant aux aliments de garder toutes leurs saveurs, est idéal en ce début d'année. Il existe, bien sûr, les marmites sous pression ou cocotte minute. A défaut, vous pouvez placer une passoire Inox au-dessus d'une casserole d'eau bouillante.
Pour profiter pleinement des bienfaits de la cuisson vapeur, voici quelques règles qu'il est bon de garder en tête…
– Mettez toujours suffisamment d'eau dans le cuit-vapeur pour que le dégagement de vapeur soit abondant.
– Disposez les légumes ou autres aliments dans le panier quand l'eau est bien chaude car, saisis par le nuage de vapeur, ils conserveront mieux leurs vitamines.
– N'oubliez pas de couper vos légumes en petits morceaux pour que la cuisson soit rapide. A l'inverse, laissez les poissons et volailles en filets, sinon ils se déssèchent et perdent leur goût.
– Enfin, ne poursuivez pas inutilement la cuisson  et ne maintenez pas longtemps au chaud. Al dente, les légumes sont plus riches en vitamines et gardent leurs micro-nutriments protecteurs. Maintenant essayez ce plat de Potiron & Patates douces aux Cranberries,  simplement délicieux…
Et, retrouvons-nous vite sur laclassedecuisine.com !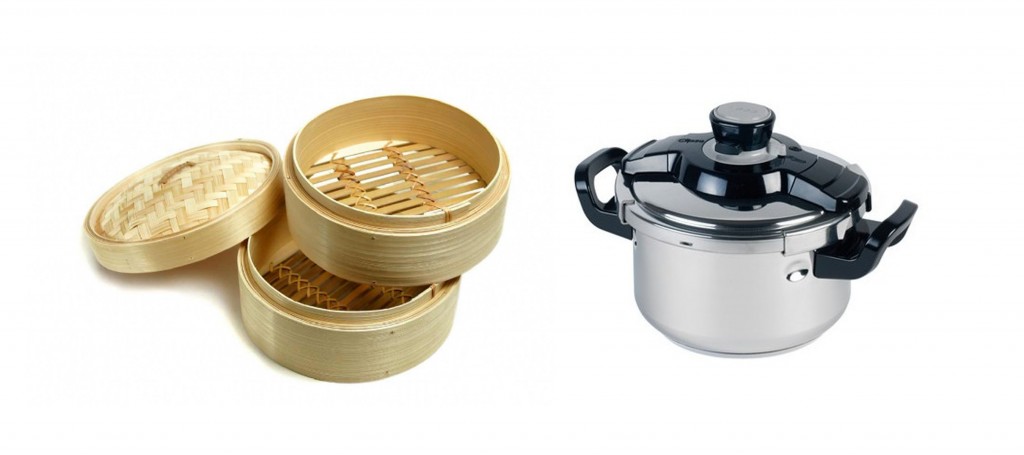 Steam cooking is a way that greatly reduces cooking time and allows food to keep all their flavour. it is ideal in this beginning of the year. Of course, nowadays, there are pressure cookers. Alternatively, you can place a stainless steel colander over a saucepan of boiling water.
To fully enjoy the benefits of steam cooking , here are some basic rules to keep in mind…
– Always put enough water in the steamer so that steam is abundant.
– Arrange the vegetables or other food in the basket when the water is hot as, captured by the steam cloud, they keep all their vitamins and do not forget to cut your vegetables into small pieces so that they cook faster. Conversely, keep the fish and poultry into fillets or they dry up and lose their taste.
– Finally, do not unnecessarily continue cooking or hold warm. Al dente vegetables are rich in vitamins and keep their micronutrients. Now, try this Pumpkin & Sweet Potatoes with Cranberries dish, simply delicious…
And, See you soon at laclassedecuisine.com !