On se met aux fourneaux, et on est sûr de combler nos envies et surtout nos papilles. Mais qu'en est-il de notre santé?
Avec le printemps, l'arrivée massive de fruits, tous plus appétissants les uns que les autres, j'aimerais vous livrer aujourd'hui deux, voire trois astuces qui feront que notre cuisine sera encore plus saine. Je veux vous parler du sucre, ou plus exactement du sucre blanc.
Dans nos différentes préparations culinaires, au lieu d'utiliser le sucre classique, blanc, c'est-à-dire raffiné, remplaçons-le par une version plus riche en minéraux donc avec plus de magnésium et potassium mais aussi plus d'oligo-éléments comme le fer et le phosphore et bien sûr plus faible en saccharose.
Voici donc les genres de sucres que je privilégie: le sucre de canne et le sirop d'agave. Ce dernier, issu d'un cactus ne provoque pas de pic d'insuline et ménage donc notre pancréas. Sa texture liquide est idéale pour les préparations de pâtes et de gâteaux aux fruits.
Enfin une dernière petite chose, le sucre roux est à oublier car il s'agit tout simplement de sucre blanc raffiné, puis recaramélisé. Je vous propose donc cette recette toute simple à faire et que l'on dégustera sans remords. Panacotta aux Framboises, ces fruits rouges que nos amis britanniques cultivent avec passion et aiment tant. En plus, ils regorgent d'antioxydants.
Alors retrouvons-nous vite sur La Classe de Cuisine !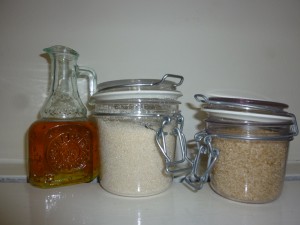 When the kitchen goes, it is sure we will satisfy our desires and especially our taste buds. But what about our health?
With spring, the increasing arrival of fruits, and all very appetizing, I love giving you today two or three tips that will make our cooking even healthier. I want to talk about sugar, or more precisely, refined sugar.
In our various culinary preparations, instead of using conventional sugar, I mean white sugar, that is to say fine sugar, replace it with one more rich in minerals. Therefore with more magnesium and potassium but also more trace elements such as iron and phosphorus and of course lower in sucrose.
Here are the types of sugar that I favor: cane sugar and agave syrup, coming from a cactus and that does not cause insulin spike. It is gentle to our pancreas. Its liquid texture is ideal for preparations as doughs and cake batter with fruits.
Finally one last little thing. Forget brown sugar because it is simply refined white sugar, then recaramelised. I therefore propose this simple recipe to make and that we will enjoy without remorse. The Raspberry Panacotta, these red berries so beloved by our British friends and full of antioxidant.
So enjoy and See you soon at La Classe de Cuisine!