Aujourd'hui, nous fêtons le quatrième dimanche de l'Avent et du coup, nous avons pu allumer notre quatirème et dernière bougie sur la couronne de l'Avent et profiter pleinement de cette lumière "annonciatrice"…
En même temps, les préparations pour Noël continuent et aujourd'hui, c'est la confection d'une autre sorte de petits gâteaux de Noël qui ne sont autre que les Mini Croissants aux Amandes que mon mari apprécie tout particulièrement. Cette recette est toute simple à faire! Elle demande juste un peu de temps et de patience mais cela en vaut la peine. Petits et grands les aiment.
A bientôt sur La Classe de Cuisine !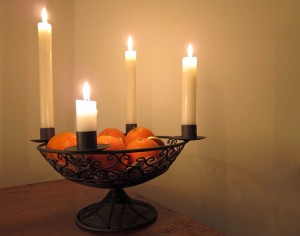 Today we celebrate the fourth Sunday of Advent and so, we were able to light our fourth and last candle on the Advent wreath and enjoy this light "heralds" …
During that time, preparations for Christmas still continues and today is the making of a different kind of Christmas cookies that are the Small Almond Croissants that my husband  appreciates particularly. This recipe is very simple to do! It just requires a little time and patience but it's worth it. Everybody loves them.
See you soon at La Classe de Cuisine !