Fidèle à la tradition, la Cerise a su garder sa saison. Mi-mai/juin/mi-juillet selon les régions et les variétés et, donc, si vous n'en profitez pas rapidement, il faudra attendre l'an prochain. C'est, après la fraise, le plus populaire des petits fruits rouges.
Fragiles, les cerises n'aiment pas attendre. Aussi, achetez-les par petites quantités et au fur et à mesure de votre consommation. Sinon, gardez-les deux jours au maximum dans le bac à légumes du réfrigérateur, dans un saladier, pour éviter qu'elles ne soient écrasées par un melon ou un légume lourd.
Enfin, les cerises fraîches détiennent le record en β-carotène (400 mg pour 100 g), et sont très riches en vitamine A (bonne pour la vue), vitamine E (bonne pour la peau et les vaisseaux sanguins) pour ne citer que les plus importants.
Parlons maintenant des griottes. Des centaines d'études scientifiques documentées ont démontré que la griotte, ou cerise acidulée, peut être considérée comme un « super fruit ». La griotte est aussi une excellente source de β-carotène. Elle est riche en vitamines C et E. Profitez donc de ce fruit savoureux et bien sucré avec cette Compotée de Cerises au Caramel car une portion de 125 g de cerises apporte environ 85 kcalories, ce qui reste très raisonnable ! Alors….
Retrouvons-nous vite sur La Classe de Cuisine !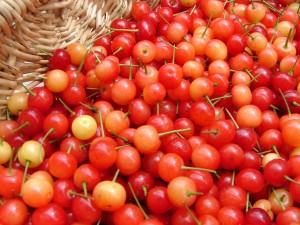 Devoted to tradition, Cherry has kept to its season. Mid May / June / mid-July according to regions and varieties. But if you do not take advantage quickly, it will be next year. That is, after the strawberry, the most popular of red berries.
Fragile, cherries do not like waiting. Buy them in small quantities. Otherwise, keep them up for two days maximum in your refrigerator in a bowl to prevent them from being crushed by the heavy melon or other vegetable.
Finally, fresh cherries hold the record in β-carotene (400 mg per 100 g), and are very rich in vitamin A (view), and Vitamin E (skin and blood vessels) to mention some of the most important.
Let's talk about sour cherries. Hundreds of scientific studies have documented evidence that the sour cherry may be considered a "super fruit". The sour cherry is also an excellent source of beta-carotene. It is rich in vitamin C and E. So take advantage of this tasty and very sweet fruit with my Cherry Compote & Caramel. A portion of 125g of cherries provides about 85 kcal, which is very reasonable! So ….
Meet you soon at La Classe de Cuisine !