Nous sommes début février et le froid est arrivé, brusquement mais sûrement, et maintenant la neige est également au rendez-vous, partout ou presque, avec son grand manteau blanc, beau, mais engourdissant.
Même si, tous contents, nous sortons pour marcher et courir dans cette neige toute fraîche, et lançons quelques boules de neige, nous devons rapidement nous remettre au chaud et là, notre petit monde ne se contentera pas d'une soupe, même bonne et vitaminée… Il leur faut un plat chaud et qui tienne au corps, comme disait ma grand-mère, un plat comme on sait si bien les faire dans l'une de nos merveilleuses régions de France: l'Auvergne ! Cette région qui sait ce que sont la neige et les grands froids !
Un plat fait à base de fromage mais je devrais plutôt dire tomme fraîche grâce à ses vaches très particulières, qui ne sont autres que les vaches de Salers, des vaches magnifiques avec leurs jolies cornes et leurs poil long couleur caramel.
Bon enfin, bref, tout cela pour vous dire que je ne résiste plus à l'envie de vous faire partager ma recette de Truffade d'Auvergne. Tout le monde l'adore dans ma famille et je la sers dès qu'elle est prête avec une grosse salade verte !
Alors bon appétit et à très bientôt sur La Classe de Cuisine…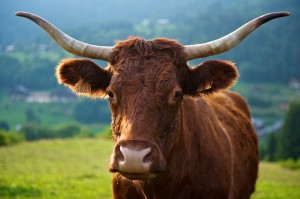 We are at the beginning of February and here we are with the cold, a bitter cold that came suddenly but surely. Now the snow has arrived too, and almost everywhere, with its ​​great white coat, beautiful, but numbing.
Even if we are all happy to get out to walk and run in the fresh snow, and to throw a few snowballs, we need to quickly get back home to the warm and cosy atmosphere. And there, our little ones won't just be happy with a soup, and even a good and vitaminised one … They need a hot dish that "sticks to the body", as my grandmother used to say, a dish as we know them so well in one of our wonderful regions of France: Auvergne ! This region of France in which people know what snow and cold weather means !
A dish made of cheese, but I should rather say  fresh tomme cheese , which is made from the milk of Salers, a breed of cattle which originated in the Massif Central of France. These cows that have a thick mahogany red coat, and long, lyre-shaped, light-coloured horns.
Well finally, in short, after that, I don't resist anymore sharing with you my recipe of the Truffade d'Auvergne. Everyone in my family loves it and I serve it as soon as it is ready with a big green salad !
So enjoy and see you soon on La Classe de Cuisine …