Comme chaque année à l'approche du 14 juillet, Paris s'apprête à célébrer la Fête Nationale en grandes pompes. Bonne humeur, spectacles et rencontres sont au programme des festivités…
Les tambours retentissent pendant le défilé des élites de l'armée française devant le tout Paris. Puis les uniformes laissent place à la fête et au très attendu feu d'artifice près de la Tour Eiffel. L'événement le plus attendu de l'année par des millions de touristes ! Après le bouquet final, il sera l'heure d'aller danser dans l'un des nombreux bals populaires, et de découvrir toutes les bonnes spécialités françaises à manger dans les différentes brasseries et bistrots.
Le 14 Juillet est de la France la plus grande fête nationale.
C'est dans cet esprit que je vous livre ici une recette typiquement française mais tellement bonne qui est celle du
Saucisson en Brioche
et que vous pourrez déguster chaud comme froid!  Alors vive la France.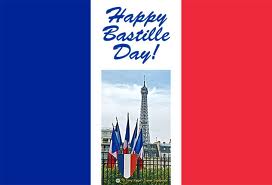 As every year we approach July 14th, Paris will celebrate its Bastille Day with great fanfare. Good humor, shows and gatherings are part of the festivities …
The drums sound for the parade of the elite of the French army in front of Paris. Then the uniforms give way to the party and the highly anticipated fireworks near the Eiffel Tower. The most anticipated event of the year by millions of tourists! After the finale, it will be time to go dancing in one of the many popular balls, and discover all the good French specialties to eat in different breweries and pubs.
July 14 is France's largest national holiday. It is in this spirit that I give you here an authentic French recipe but so good that is the: Lyon Sausage in Brioche and you can enjoy it hot or cold! So Vive la France.