Que dire du plus célèbre couple français des accords Mets/Vins sinon qu'il est passionnel. Pour parler de nos fromages, je m'en tiendrai aux plus connus, les plus classiques et souvent les plus appréciés.
Pour un Camembert et un Brie: Il n'y a pas de mariage plus emblématique et tricolore qu'un camembert ou un brie et son vin rouge. Pourtant, méfions-nous en, car ses tanins, associés au gras du fromage, peuvent donner un goût métallique désagréable. le rouge doit être rond, souple, peu ou pas boisé et plutôt jeune. On peut donc réunir des bourgognes de la côte chalonnaise, des rouges de Loire, des gamays du Beaujolais ou du pinot noir d'Alsace.
Le chèvre : Il n'y a pas plus versatile que le chèvre ! Il se façonne en bûche, crottin, palet, pyramide, demi-sphère et sa robe est blanche, bleutée, cendrée ou crème. Un chèvre frais, d'une texture souple, se plaît avec tout vin blanc fruité, vif, dénué d'arômes boisés. Lorsque le chèvre est affiné et d'une texture plus sèche, il réclame la puissance d'un blanc sudiste de la vallée du rhône, Provence ou Languedoc. Mais, le chèvre ne dédaigne pas le rouge loin de là, s'il a les tanins discrets d'un vin de Loire, d'un beaujolais ou d'un grenache.
Avec un comté qui est le premier des fromages français d'Appellation d'origine il se marie parfaitement avec les blancs de sa région comme les vins typés des Côtes du Jura. le mariage peut aussi se faire hors du Jura avec un Chardonnay ou un châteauneuf-du-pape blanc. Le comté admet cependant aussi certains rouges issus de merlot ayant des tanins de velours ou encore la noblesse de l'étiquette d'un pomerol.
Enfin le Roquefort mérite un vin à fort tempérament. Il est traditionnellement accompagné de beurre frais et de vin rouge fortement charpenté comme un Châteauneuf-du-pape ou un Madiran. Mais pourquoi pas un Rivesaltes, un Porto ou un Sauternes. Avec ce dernier, tout les sépare. L'un est aussi salé que l'autre est sucré, mais leur lien secret est de naître chacun des caprices d'un champignon. Penicillium roqueforti pour l'un et Botrytis chinera pour l'autre. Curnonsky préconisait le clos de Vougeot ou le haut-brion, mais les liquoreux de Loire, d'Alsace, les Jurançons et Pacherenc-du-vic-bilh se coulent aussi avec délice dans les veines bleues de ce fromage mythique.
Alors quoi de plus naturel que d'aller acheter l'assortiment de fromages dont je vous ai parlé et faire une… bonne dégustation.
A très bientôt sur La Classe de Cuisine !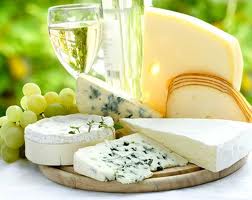 What to say more about the most famous French couple agreements Food/Wine that it is passion. To speak of our cheeses, I will stick to the most famous, the most classic and often the most popular ones.
For Camembert and Brie: There is no most emblematic marriage than a camembert or a brie and red wine. However, we must beware because its tannins associated with the fat of the cheese, can give an unpleasant metallic taste. Red should be round, soft, little or no woody and rather young. We can gather a Burgundy from the Côte Chalonnaise , reds from Loire , Gamay of Beaujolais or pinot noir from Alsace.
Goat Cheese: There is no more versatile cheese than the goat cheese ! It is shaped in logs, dung, shuffleboard, pyramid, hemisphere and its dress is white, blue, ashen or cream. A fresh goat cheese, with a soft texture, likes fruity white wine, bright, devoid of woody aromas. When the goat cheese has a refined texture and a tiny dry, he claims the power of a white Southern Rhône Valley wine, a Provence or a Languedoc. But the goat cheese does not disdain the red,quite the contrary,especially if it has a discrete tannin like a Loire wine, a Beaujolais or a Grenache.
The Comté which is the first French cheese "Appellation d'Origine" blends perfectly with the white wine of its region as the distinctive wines of Côtes du Jura. Marriage can also be done outside of the Jura with a white Chardonnay or a Châteauneuf-du-Pape. The Comté also recognizes, however, some reds from Merlot with velvety tannins or the nobility of the label of a Pomerol.
Finally Roquefort cheese deserves a strong wine with temperament. It is traditionally accompanied by fresh butter and a red wine strongly built as a Châteauneuf-du-Pape or a Madiran. But why not a Rivesaltes, a Portwine or a Sauternes. With this last wine, everything separates them. One is as salty as the other is sweet, but their secret relationship is born by the whim of a mushroom. Penicillium roqueforti for one and for the other chinera Botrytis. Curnonsky recommended the Clos de Vougeot or Haut-Brion wine, but sweet Loire, Alsace, and the Jurançon, Pacherenc-of-vic-bilh will delight you and flow in the blue veins of this mythical cheese.
So what could be more natural than buying an assortment of the cheeses I spoke about and enjoying them. So have a… good tasting.
See you soon at La Classe de Cuisine !