Délicieuses liliacées, nous pouvons les déguster jusqu'au 24 juin, jour de la Saint-Jean.
Les asperges vertes contiennent plus de carotène et de vitamine C que les blanches et les violettes. Les blanches le sont au fait qu'elles poussent à l'abri de la lumière, sous terre, et qu'il faut butter tous les jours et cueillir à l'aide d'une gouge, ce qui donne aussi son prix élevé.
Vertes, leurs tiges délicates aux vertus diurétiques et aux agents de dépuration du sang ont une place de choix dans de nombreux régimes. Quant à la variété dont la pointe est violette, c'est une asperge blanche exposée au soleil peu avant la cueillette.
Rendez-vous au marché pour y acheter ces jolies tiges et cuisiner ces Penne Rigate aux Asperges Vertes & Saumon Fumé comme plat principal ou ces Asperges Sauce Mousseline pour un hors-d'oeuvre raffiné mais léger.
Enfin, comme les asperges ne se conservent que 48 heures après l'achat, enveloppez-les dans un linge humide. En les cuisant debout dans l'eau, les pointes non immergées on préserve les éléments nutritifs, concentrés dans les pointes. Alors…
A très bientôt sur Laclassedecuisine.com !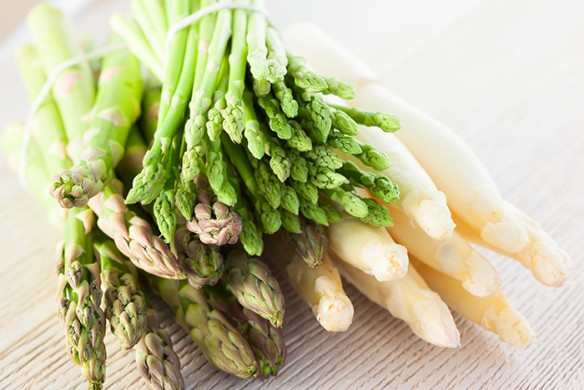 Delicious liliaceous can be enjoyed until June 24, the day of Saint John.
Green asparagus contains more carotene and vitamin C than the white and violet ones.
The white one gets this appearance because it grows in the absence of light, underground, and needs to be buttered every day and picked with a gouge, hence the high price. The green ones, with their delicate stems have diuretic agents and depuration of the blood which gives it a prominent place in lots of diet plans. As for the variety whose tip is purple, it is a white asparagus that has gotten a little sun before harvest.
Let us go to the fresh market to buy these beautiful stems and prepare these Penne Rigate with Green Asparagus & Smoked Salmon as a main dish or these Asparagus & Mousseline Sauce as an elegant but light starter.
Finally, as asparagus only lasts up to 48 hours after purchase, wrap them in a damp kitchen towel. Cooked, standing in water, without submerging the tips you preserve the nutrients concentrated in the tips. Therefore…
See you soon at Laclassedecuisine.com !