Avec leurs abondantes rondeurs et leur insouciance enjouée, les hortensias ont depuis longtemps conquis les citadins qui savent tirer parti de leur élégance naturelle pour décorer leurs intérieurs. Lorsqu'ils commencent à se dessécher, il se dégage comme une atmosphère de fin de siècle de ces hortensias de jardin aux formes opulentes et aux couleurs tendres.
Les hortensias nous séduisent à deux reprises de leurs abondantes floraisons: après avoir ensorcelé nos jardins, ils feront merveille dans la maison et sur la terrasse en arrangements frais ou séchés.
Un unique bouquet de fleurs girondes de l'hortensia suffit à faire durer la magie de l'été dans la maison. Aucune autre plante ne se prête mieux aux premières études de composition florales et les plus beaux effets seront obtenus avec les cueillettes de l'automne finissant, lorsque les premiers frimas auront quelque peu déjà modifié la palette des couleurs de vos hortensias.  Il faudra alors les placer dans l'eau jusqu'à ce que les fleurs à sécher prennent la consistance d'une sorte de papier.
Des hortensias séchés aux couleurs chatoyantes disposés dans de classiques pots de fer réchaufferont certainement les regards. Alors pourquoi ne pas oser cette délicieuse recette de Vin d'Orange qui m'avait été donnée par notre oncle Yvon. Une fois prêt il vous réchauffera très certainement aussi…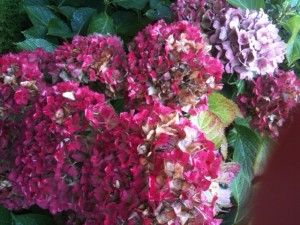 With their abundant curves and playful carefree attitude, hydrangeas have long conquered the city dwellers who know how to take advantage of their natural elegance to decorate their interiors. When they start to dry out, an atmosphere of fin de siècle emerges and these hydrangeas garden opulent forms and soft colours.
Hydrangeas seduce us twice with their abundant blooms: After enchanting gardens, they marvel in the house and on the terrace in fresh or dried arrangements.
A single bouquet of round hydrangea is enough to make the magic of summer last in the house. No other plants are better suited to early studies of floral composition and the best effects are obtained with the pickings of late autumn, after the first frosts have somewhat changed the color palette of the hydrangeas. You may then place them in the water until the flowers are dry and get the consistency of paper.
Dried hydrangeas arranged with its shimmering colours in classic iron pots will certainly reheat any glance. So why not trying this delicious Orange Wine Recipe that I earned from our uncle Yvon and that certainly will reheat yourself…