Bien avant d'animer la nuit d'Halloween, les potirons et citrouilles peuvent participer à la décoration de la maison. Leurs versions ornementales sont aussi originales que variées.
Avec leur incroyable variété de couleurs et de volumes, les citrouilles nous inspirent chaque automne de nouvelles idées décoratives.
Botaniquement, les potirons appartiennent à la grande famille des baies, ce qui, vu leur volume et leur poids de 20 à 50 kg pour la variété comestible, a presque l'air d'une farce.
Ils peuvent pourtant être transformés en toutes sortes d'exquises soupes qui enrichissent vos menus d'automne.
C'est sur les marchés que l'on trouvera les cucurbitacées les plus originales et c'est donc pour cela que je vous propose cette fois-çi le Velouté de pâtisson. Très doux et très facile à préparer.
Alors, retrouvons-nous vite sur La classe de Cuisine !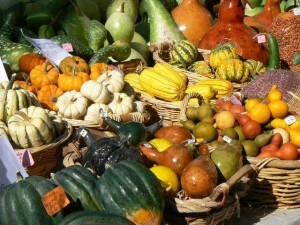 Well before animating Halloween night, pumpkins and squash can participate in decorating our home. Their ornamental versions are also original and varied.
With their incredible variety of colors and shapes, pumpkins inspire us every autumn with new decorative ideas.
Botanically, pumpkins belong to the family of berries, which, given their size and weight of 20 to 50 kg for edible variety, sounds almost like a joke.
Yet they can be transformed into all kinds of exquisite soups that enrich our fall/autumn menus.
It is on the open market that you will find the most original cucurbits and it is for this reason that I suggest the Pattypan squash soup. Very soft and easy to prepare.
Meet you soon at La Classe de Cuisine !