Si dans l'assiette il faut l'effeuiller pour en apprécier le coeur, au jardin, son élégant feuillage vert-argenté et ses capitules jouent de concert pour nous offrir un spectacle qui rayonne bien au-delà des plates-bandes du potager.
Réputée depuis l'antiquité pour ses propriétés médicinales et appréciée des jardiniers pour les teintes de son feuillage, cette plante vivace qu'est l'artichaut, proche du cardon, à l'allure exubérante, n'offre que ses inflorescences aux cuisiniers. Des capitules qui protègent de savoureux petits coeurs et des fonds tout aussi délicieux.
Rien de plus subtil, donc avec cette fleur-légume que nous dégustons avant même qu'elle s'épanouisse que de découvrir cette recette d'automne ensoleillé de Fricassée d'Artichauts au Parmesan qui nous permet de mieux révéler leur saveur.
Alors à très bientôt sur La Classe de Cuisine !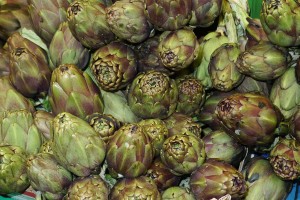 If it must be plucked to appreciate the heart when on one's plate, in the garden its elegant silver-green foliage and heads play together to offer a show that reaches far beyond the garden beds.
Known since ancient times for its medicinal properties and appreciated by gardeners for its foliage colour, this perennial artichoke, close to the cardoon but with an exuberant style, offers its inflorescences to cooks. These heads protect tasty hearts and funds equally delicious.
Nothing is more subtle than this flower-vegetable that we enjoy before it flourishes. So let's  discover this sunny autumn recipe of Artichokes Fricassee with Parmesan which allows us to reveal their flavour even better.
See you soon at La Classe de Cuisine !