This is a real crowd-pleaser of a vegetable. The orange flesh, dense but smooth when cooked, has a gentle sweetness that appeals to even the most vegetable averse. Like the pumpkin, the butternut is harvested during summer but used during winter.
Halved and roasted in the oven with olive oil, this everyday squash opens the door to countless delicious possibilities. Raw, the flesh can be cooked into everything because it works with so many flavours.
So, why not try this Butternut, Hazelnut and Sage Gratin, it takes a while to be cooked but its worth the time. My kids' favorite dish with Butternut is this Pumpkin Risotto with Gruyère ! That is why…
Bon Appétit at laclassedecuisine.com !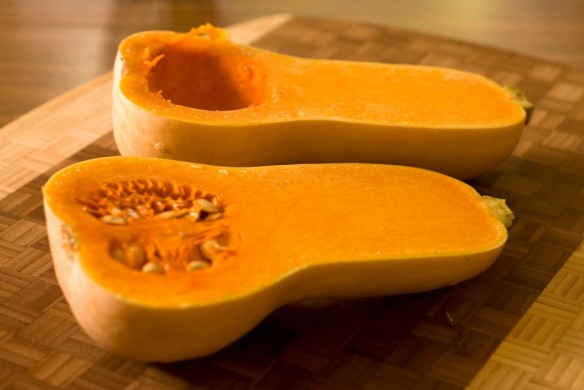 Tout le monde aime manger ce légume. Sa chair orange, dense mais lisse lors de la cuisson, a une douceur qui attire même les plus anti-végétariens. Comme la citrouille, le Butternut est récolté pendant l'été, mais utilisé pendant l'hiver.
Coupée en moitié, et rôtie au four avec de l'huile d'olive, cette courge ouvre la porte à d'innombrables possibilités de délicieuses recettes. La chair peut être cuite nature et accompagner toutes sortes de mets auxquels elle s'associe parfaitement.
Alors, pourquoi ne pas essayer ce Gratin de Butternut, Noisettes et Sauge? Il lui faut un certain temps pour être cuit mais cela vaut le coup! Et le plat préféré de mes enfants avec le Butternut est ce Risotto à la Citrouille & Gruyère que je fais avec du Butternut bien sûr ! Alors…
Bon Appétit sur laclassedecuisine.com !