Ingredients for 4 people :
For the apples:
4 apples, such as Reine de Reinette, Pink Lady or Cox's Orange
60 g (1 oz) butter, melted
60 g (1 oz) caster sugar
To make the soufflé:
500 ml ( 2 cups) whole milk
3 drops of vanilla extract
80 g (3 oz) caster sugar
70 g ( 2 1/2 oz) semolina or almond powder
4 free range eggs, separated
a few drops of lemon juice
10 g (1/2 oz) unsalted butter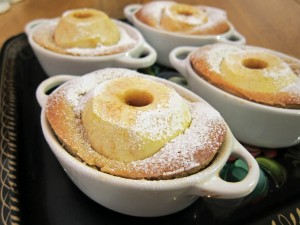 Preheat the oven to 170°C ( 325°F). Peel and core the apples and brush them with the melted butter and rool in the caster sugar to coat all over. Place on a greased baking sheet and bake in the oven for 30 minutes or until almost tender but still holding their shape. Set aside.
Grease the baking dish with butter, then sprinkle with the sugar.
Pour the milk into a heavy saucepan, add the vanilla and bring to the boil. Lower the heat and add 60 g (2 oz) of the sugar and the semolina or the almond powder. Simmer for about 3 minutes until thickened, whisking constantly to keep it smooth.
In a large bowl, whisk the egg whites with the lemon juice until soft peaks form and then slowly add the remaining 20 g (1 oz) sugar, whisking constantly and continue to whisk to stiff peaks.
Mix the egg yolks into the soufflé cream then gradually  whisk in a third of the whisked egg whites to loosen the mixture. Carefully fold in the remaining  egg whites with a spatula.
Pour the mixture into the baking dish and place the backed apples in it. Put a knob of butter on top of each apple and bake for 25 minutes or until the soufflé is risen and golden.
Serve at once, lukewarm and sprinkled with icing sugar.
Option: You may serve these backed apples in individual cocottes !