Ingredients for 4 People:
400 g ( 14 oz) green asparagus
240 g ( 1 big cup) pasta, Penne Rigate type
4 slices smoked salmon
200 ml (3/4 cup) whipping cream
Salt and freshly ground Pepper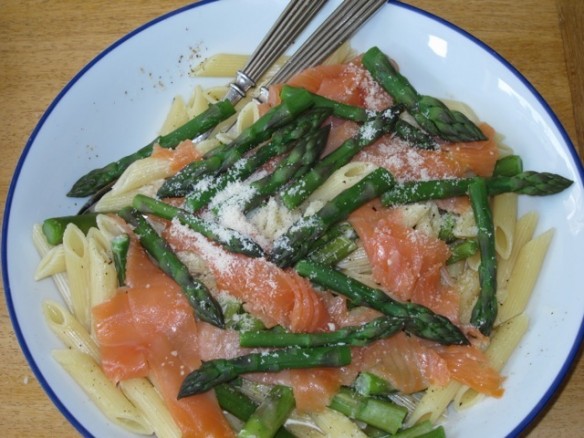 Start by cutting the fibrous ends of the asparagus and cut the heads of the asparagus and set aside. Cut the remaining stalks into small pieces.
Heat a large pot of water and cook the asparagus tips 5 minutes in boiling salted water. Drain them keeping the cooking water.
In the cooking water, add the pasta and asparagus sections and cook 10 minutes, time of cooking time for pasta.
Meanwhile, cut the smoked salmon into strips and heat the cream in a small saucepan.
Once the pasta cooked, drain.
Serve the pasta in a dish or divide on plates, sprinkle strips of salmon, asparagus tips, and other asparagus pieces and serve immediately sprinkling with Parmesan.

Print / Imprimer