Ingredients for 6 people :
250g (1 cup) plain flour, plus extra for dusting
80g (5 Tbsp) icing sugar
Pinch of salt
150g (1/2 cup) butter
1 egg yolk
4 eggs
400ml (2 cups) single cream
600g (3 1/2 cups) very good chocolate ( black or milk as you wish)
100ml (1/2 cup) whole milk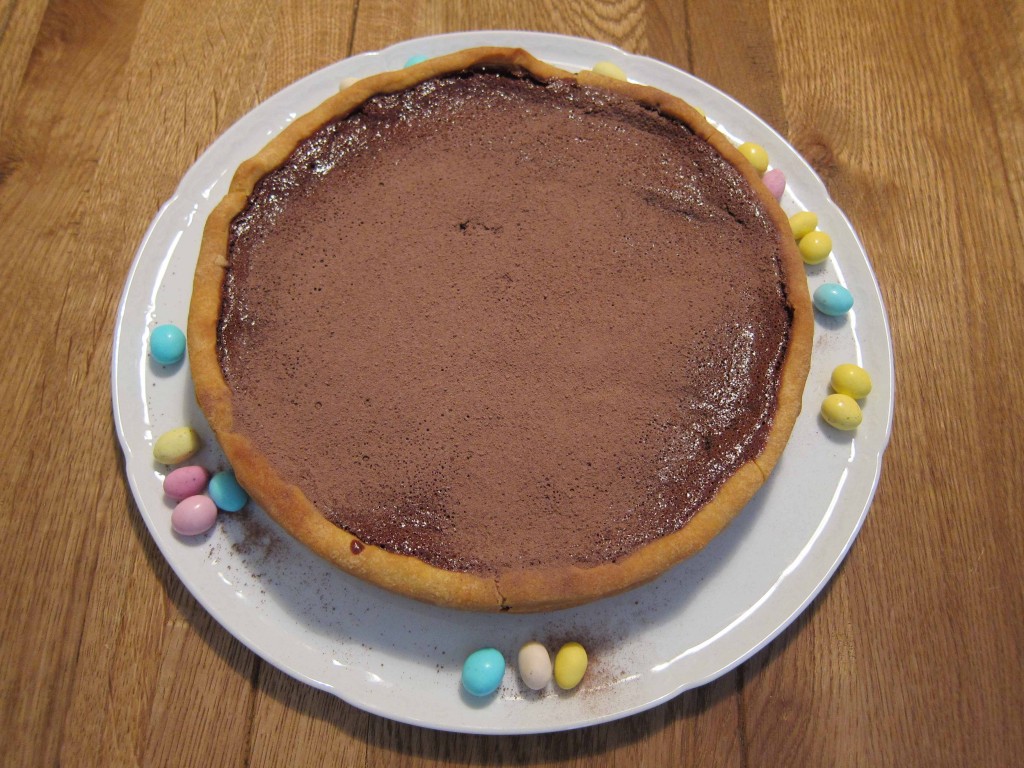 For the shortcrust, mix together the flour and 20 g sugar, then rub together the flour, sugar, salt and butter until the mixture resembles breadcrumbs. Then beat together the egg yolk and 1 whole egg and slowly add these, mixing until the pastry forms a ball. Wrap the dough and chill for at least half an hour.
Preheat the oven at 160°C/370°F.
Roll out the pastry on a lightly floured surface to a 2mm thickness circle. Place the dough on a tart tin. Rest the tart tin in the fridge for 20 minutes.
Place a greaseproof paper on your dough and fill with baking beans to keep the dough from losing its shape, and bake blind for about 20 minutes. Remove the greaseproof paper and baking beans and return to the oven for 5 to 8 mins or until the shortcrust is starting to turn golden. Turn the oven down to 140°C/300°F.
For the filling, bring the cream and milk to the boil and pour over the chocolate and stir until chocolate and cream are mixed. Allow to cool for 5 mins. Beat the eggs then add to the chocolate and mix well.
Fill the shortcrust with the chocolate filling. Carefully place in the middle of the oven and bake for 30 minutes, or until the filling appears set but with a slight wobble.
Allow to cool to room temperature before serving and you may decorate your tart as you wish, allowing the occasion.

Print / Imprimer