Ingredients for 8 Cones:
2 chicken breasts
2 tbsp olive oil
1/2 cucumber
1 large white onion (optional)
1 small bunch of Rucola
4 Flour Tortillas
4 tbsp Pesto verde ( green pesto)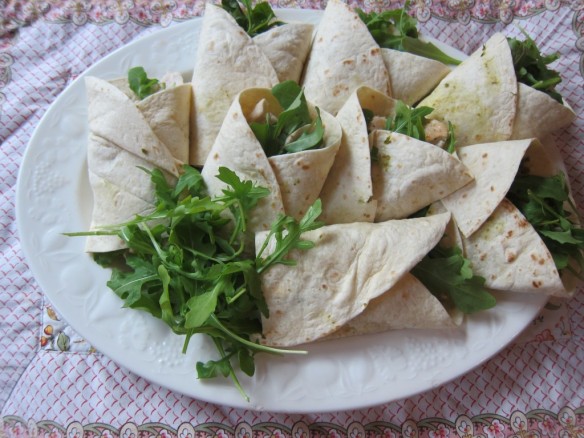 Salt the chicken fillets, pepper and sauté about 10 minutes in hot oil. remove and let cool slightly, then cut into thin slices.
Peel the cucumber, cut it in half lengthwise, remove the seeds with a spoon and cut into thin slices. do the same with your white onion: cut into thin slices.
Wash your Rucola and wring it. Heat a few minutes the tortillas in a preheated oven at 180° C (398°F). Take them out of the oven and cut in half.
Brush the half tortillas with pesto verde and spread the filling on top. Roll tortillas into a cone and sprinkle with a drizzle of olive oil if you want before serving.

Print / Imprimer